In this guide, Richard Nguyen and Jerica Nieva will share their wisdom on the BEST WAYS to tackle the IB English IO. The guide covers everything from choosing global issues to selecting a good extract to structuring the IO to preparing for the question section at the end!
Richard Nguyen and Jerica Nieva graduated in 2021 with an IB 45 and IB 43, respectively. They excelled in IB English Language and Literature and achieved 7s, with Richard scoring an almost perfect 38/40 for his IB English IO! 🤩
First things first, what is the IB English Individual Oral?
It's a 15 minute oral exam.
The first section is a 10 minute presentation by you, the student, followed by a second section consisting of 5 minutes of questions asked by your teacher.
The IO is centered around a Global Issue.
The Global Issue must belong to one of 5 central themes.
For Language and Literature, you must analyze a literary work and a non-literary body of work. (This guide focuses on Language and Literature.)
Comparison and contrast is not a requirement (unlike in Paper 2)
How do I choose a good Global Issue? Is my Global Issue good enough?
A strong house requires a stable foundation. And if you want to get a 7 for your Individual Oral, then you must have a strong global issue (GI).
The global issue should belong to one of the following 5 themes:
Culture, identity and community
Beliefs, values and education
Politics, power and justice
Art, creativity and the imagination
Science, technology and the environment
First, an excellent Global Issue is one that is relevant to our current society. It must be relatable to many people across diverse cultures and national borders. Thus the "Global" in "Global Issue".
IB English IO Example: Weak Global Issue
To make it clear exactly what we mean, here is a weak global issue as an example…
Chosen Theme: Politics, power and justice
Global Issue: "Rising unaffordability of healthcare causing a health crisis in the US"
Why it's not great: Unaffordability is unique to America and a few other countries, so it's not the most global of issues.
IB English IO Example: Good Global Issue
Now let's look at an example of a better global issue…
Chosen Theme: Culture, identity and community
Global Issue: "Social media leading to both greater self-expression and malice, resulting in conflicts."
This is a better GI because it's a contemporary issue and is relatable to many people around the world.
Some examples of what you could elaborate:
You could go on to elaborate what the malice entails, whether or not it is intentional.
You could also explore what conflicts arise: Conflicts between an individual doubting everything they read? Conflicts between groups, families, or values? This is where your creative juices can flow to take your IO to the next level!
How do I pick good extracts for my IB English IO?
Throughout IB English, you'll study various literary and non-literary texts in class that you may choose to use in your IB English IO. How you select your extracts can greatly impact your IO as they need to relate to your global issue.
Before selecting your extract, you should consider how well it can support your chosen global issue. To do this, consider breaking down your main topic into different explanations for how and why it is a global issue, and making these specific for each text.
Let's read about Richard's experience to see how he approached this process:
I talked about societal expectations placed on women for one body of work (The Thing Around Your Nick by Chimamanda Ngozi Adichie), and how these expectations reduce their autonomy in Nigerian society. For another body of work (this was a collection of essays by Marina Keegan my school put together), I discussed how several different norms that affects general human life: having a stable and high-income job rather than pursuing a risky passion, doing vain acts of charity such as saving whales rather than making a homeless man walk to a shelter. Everything links back to the global issue, that is how you do not get side-tracked and remain focussed.

Richard Nguyen, IB 45 graduate
You should also consider how the maximum number of lines that you can include in your extract for each text is 40 lines. This gives you some freedom in choosing how in-depth you want your analysis to be. Overall, you want your close analysis to be covering the whole extract – meaning that there is no point in choosing 40 lines and only analyzing the first 20 lines of it. You could lose marks for failing to demonstrate your full knowledge of the extract in Criteria A! So sometimes, less is more and choosing 20-25 lines is the better call.
Alternatively, you may find that analyzing a long extract is necessary for having enough evidence to support your global issue in a close analysis. Using up to 40 lines in this case would instead be a good approach! Having an effective close analysis will make more sense when we learn about structuring an IO in the next section.
Steps for selecting extracts:
Read both texts and find a common global issue.
Find different extracts within your texts that relate to the global issue.
Compare the different extracts for each text, and pick the one that has a variety of literary and structural techniques that will best support your global issue. Remember these techniques must serve a purpose in portraying the author's intention and commentary on your global issue.
Consider cutting down your number of lines if you are struggling to include everything in your analysis planning, or adding more lines if you find you need more evidence.
How should I structure my IB English IO? Show me an IB English IO Example Structure!
Overall, an IO speech is 10 minutes long and covers an introduction, text analyses, and a conclusion. Afterwards, there is a 5-minute period in which your examiner will ask different questions – this may seem daunting, but we will guide you on how to prepare later on. It is very important that you are spending the correct time on each section of your speech as criteria C is about organization! Generally, you should aim to have 1 minute for your introduction and conclusion, and 4 minutes for each text analysis.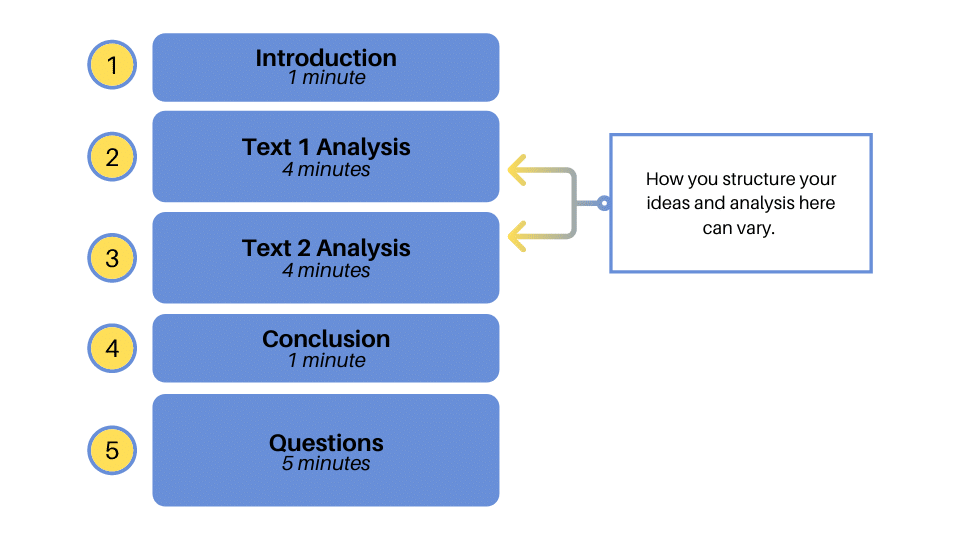 What do I say in my introduction?
Firstly, your introduction is vital in establishing your global issue and how you plan to explore it through your literary and non-literary texts. As it is only 1 minute, you want to ensure that the information you include is necessary and wholly contributes to your examiner's understanding of your IO.
Introduce the global issue. Don't be vague in this section and spend around 2-3 sentences specifying how and why your global issue is relevant and multifaceted enough for an IO.
Introduce your first text. Give only the most significant details such as the author's name, date, text type, and text source. You may also consider detailing the extract pages and whether your text is from a collection.
Briefly explain (1-2 sentences will be sufficient!) how your first text relates to the global issue.
Complete steps 2 and 3 for your second text. It would also be helpful when introducing your texts to specify which is literary and non-literary.
Don't be tempted to include a comparison in your introduction! It works better in your conclusion if you wish to include it.
Secondly, how you structure your textual analyses can vary a lot depending on the number of ideas you aim to cover, and how you organize them to appear cohesive. Before planning your IO structure, you should thoroughly understand the difference between close analysis and wide analysis.
What is close analysis?
You may have learnt this in class as the "MICRO" elements of a text which is just another fancy name for it. Close analysis is technically the same as how you analyze for a Paper 1 – you reference specific quotes, images, or scenes from the extract when making your analysis and evaluations. This is why choosing your extract lines is a critical process as you want to be demonstrating a full understanding of your extract.
What is wide analysis?
Likewise, you may have heard of wide analysis as "MACRO" and this section may be the hardest to nail as it can seem new in your IB English journey. Wide analysis is all about using techniques and ideas from outside of your extract which is why you would want to avoid referencing quotes here. This can be done in two flexible ways where you analyze an image or recurring motif, theme, or technique that appears:
Outside your extract, but still in your chosen text.
Outside your extract, and from another text of your author. This is mainly appropriate when your chosen text is from a collection (e.g., poem collection, photography collection, or a novel containing different short stories), and you are analyzing recurring themes and concepts. If you are doing this, it is ideal to say in the introduction that your text is from a collection!
Ultimately, when understanding the difference between wide and close analyses, it's not about how you analyze but what you analyze. And while it is important to demonstrate your knowledge on both the entire text and extract, ensure that everything still relates back to your global issue!
So, after learning about close analysis and wide analysis, how do we use this in an IO speech? Well, this would depend on how you want your ideas to flow. If your wide and close analyses respond to your global issue differently, it might be best to separate them into two main sections. On the other hand, if they relate to the global issue similarly it would be effective to weave these parts together. Remember that the time you spend on the wide analysis and close analysis should be equal as an IO must be balanced.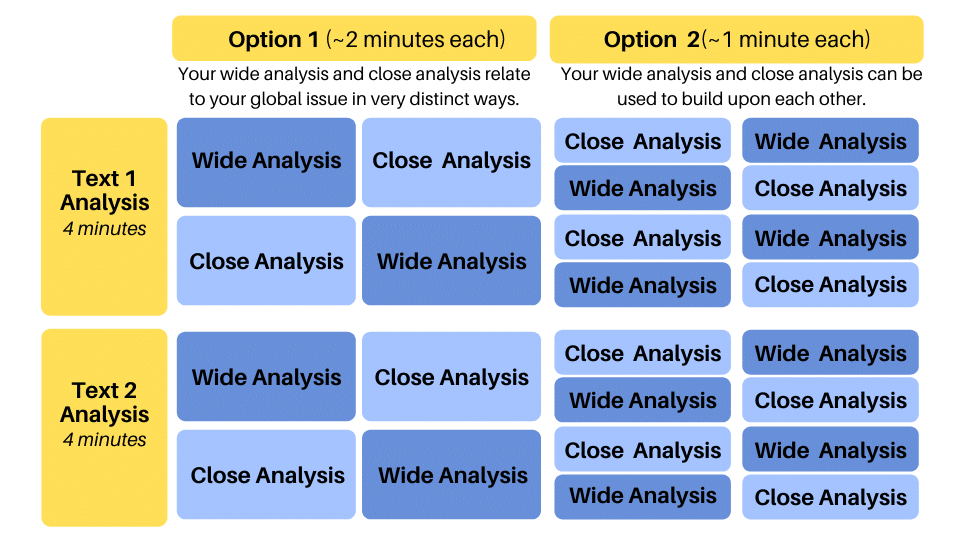 Lastly, you have your conclusion. This is where you condense all your findings from your analytical exploration to demonstrate how you have developed an in-depth understanding on your global issue. You want your examiner to have a lasting impression on your IO so consider different ways to give your conclusion a profound ending.
What do I say in my conclusion?
Summarize how the texts have related to the global issue (write around 2 – 3 sentences for each text). Think about how you can combine all your main points in your analysis to demonstrate the author's overall perspective on the global issue.
Compare the two texts in terms of the global issue (if you want!). You may find that comparing the texts can produce a strong conclusive statement on how you explored different aspects of the global issue. Keep in mind that a comparison is totally not necessary, so only spend around 1-2 sentences if you wish to have it.
Reflect on the global issue. Likewise to step 2, this part is optional but also helpful in giving a thoughtful ending to your IO. Your reflection may include a general statement on the global relevance of the issue, highlighting how many authors are prompted to write about it due to its impacts within society.
How should I prepare for the presentation?
You guessed it! Practice makes perfect.
How you practice is unique to you.
You may be stressed out on how to make sure you remember everything for your 10-minute speech. While writing a script is a great way to organize ideas, it can be a massive drawback if you are not able to memorize it before the deadline!
If you are worried about not memorizing your script, here's how you can ensure that you will speak like a total IO expert in your exam:
Write your script (while referring to LitLearn's IO and analysis guides 😊)
Deconstruct your script into a detailed outline of dot points.
Practice speaking whilst only using your detailed outline. This encourages you to think spontaneously on how to make your sentences flow without missing the important points!
After some time, you can try reducing the number of dot points in your detailed outline and practice speaking. This will also help you decide which 10 points are most significant to bring into your exam.
Using a detailed outline may also help prevent you from sounding robotic and monotonous. But whether you decide to use a script or outlines when practicing, there are several ways you can ensure that you sound confident, natural, and engaging during your IO.
Check out Richard's experience and great tips for speaking in an IO:
"What I did was write a script and then rehearse it over and over. Coherency is key and can be marked. You'll want to emphasize keywords and phrases and make your IO engaging and interesting to hear. You'll want to speak loud, sound confident, and enunciate. Remember, a part of the criteria marks your "style (for example, register, tone and rhetorical devices)". If you have a fantastic understanding, analysis and focus but poor language and delivery, you might not be able to get a 7.

My first tip for sounding natural is varying your tone, pitch and placing emphasis on important words or syllabuses. Enunciate and stress buzzwords, those important for analysis (i.e. anaphora) or relevant to your global issue (i.e. societal values)

My second tip is to record yourself for self-feedback or present it to others. You will personally know how to improve to avoid sounding robotic. And if not, hopefully, the person listening to you can give you pointers."

Richard Nguyen, IB45 graduate
What are the IB English IO Questions like? How do I prepare for the IO Questions?
Not gonna lie–the questions can be curveballs.
While your response to these questions cannot make you lose any marks in an IO (which is a relief!), this section is still very crucial in securing those bonus marks to bring you up a grade.
Questions that are asked may be about:
Ideas in your IO speech that could be explored in more detail (this is the most common source of questions!).
Providing further examples from the text or extract on a certain topic or line of inquiry.
Providing further explanation on the author's intention or audience effect of a specific literary technique that you mentioned.
While these questions are generally relevant to your global issue, they may not be. Ultimately, it is up to your examiner.
For example, your examiner may ask if there are other extracts that explore "how patriarchal values inhibit women in Nigeria". And you'll have to answer if there is such an extract and do some light analysis on how this inhibition is caused. Does it inhibit opportunities? Or self-expression? Freedom?
Although your preparation for the IO questions is crucial, the timing of your responses can also influence your performance as you want to be making the most out of the 5-minute period. Here are some tips for during an IO:
Spend around 1-1.5 minutes for each response – this allows you to answer up to 4-5 questions. While it might seem insightful to give a 4-minute-long answer, it also restricts the examiner from asking more questions which are generally about parts of your speech that needed a bit more support.
If you are nearing 4.5 minutes, it is best to not finish your current response for a new question as you won't be able to give another response in 30 seconds.
Let's read Richard's wise words on how he prepared for his IB English IO questions:
"Depending on your examiner or teacher, they will either ask easy or hard questions. The best advice I can give you is to know your texts inside out. After each section or chapter from a body of work, write notes about what is explored regarding your global issue. This way, you'll be actively thinking about how the global issue is depicted through your texts. Think: 'what does this section tell me about the global issue?'

You should also prepare other examples that prove your point in your analysis. When writing about how the author portrays the global issue through a scene, know if a similar scene pops up in your body of work where the global issue is portrayed in the same way or another one.

Essentially, read the entire bodies or work and have a general idea of how the global issue seeps through the entirety of the texts."

Richard Nguyen, IB45 graduate
Wrapping up
We hope this guide has helped you navigate one of the most important (and stressful!) parts of your IB English assessment. Thanks to Jerica and Richard for collaborating on this guide to help fellow IB English students out there.
If you want more support for your analysis skills in your IO, tutoring from Richard or Jerica, or help with taking your Paper 1 and Paper 2 preparation take a look at our other Free and Premium resources: